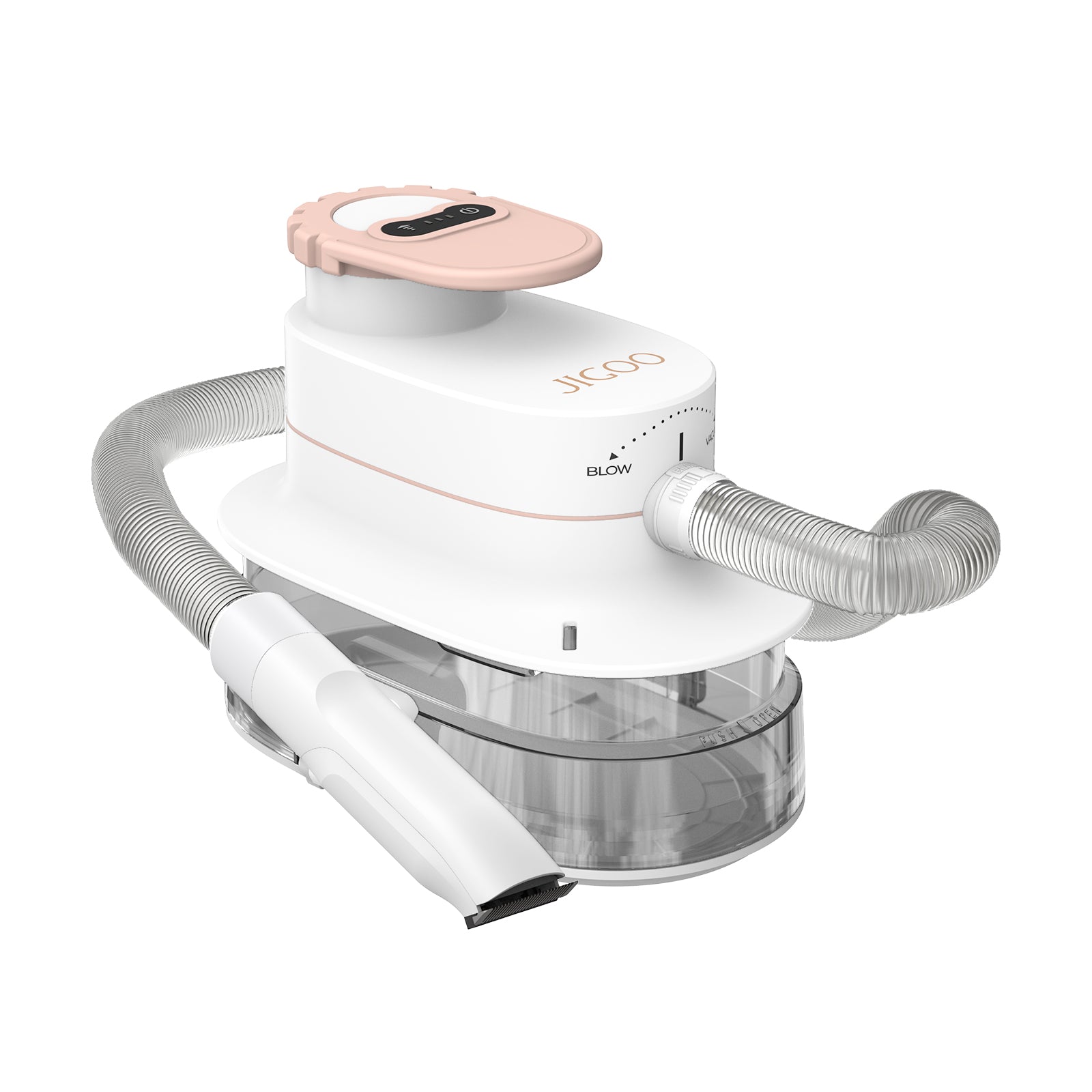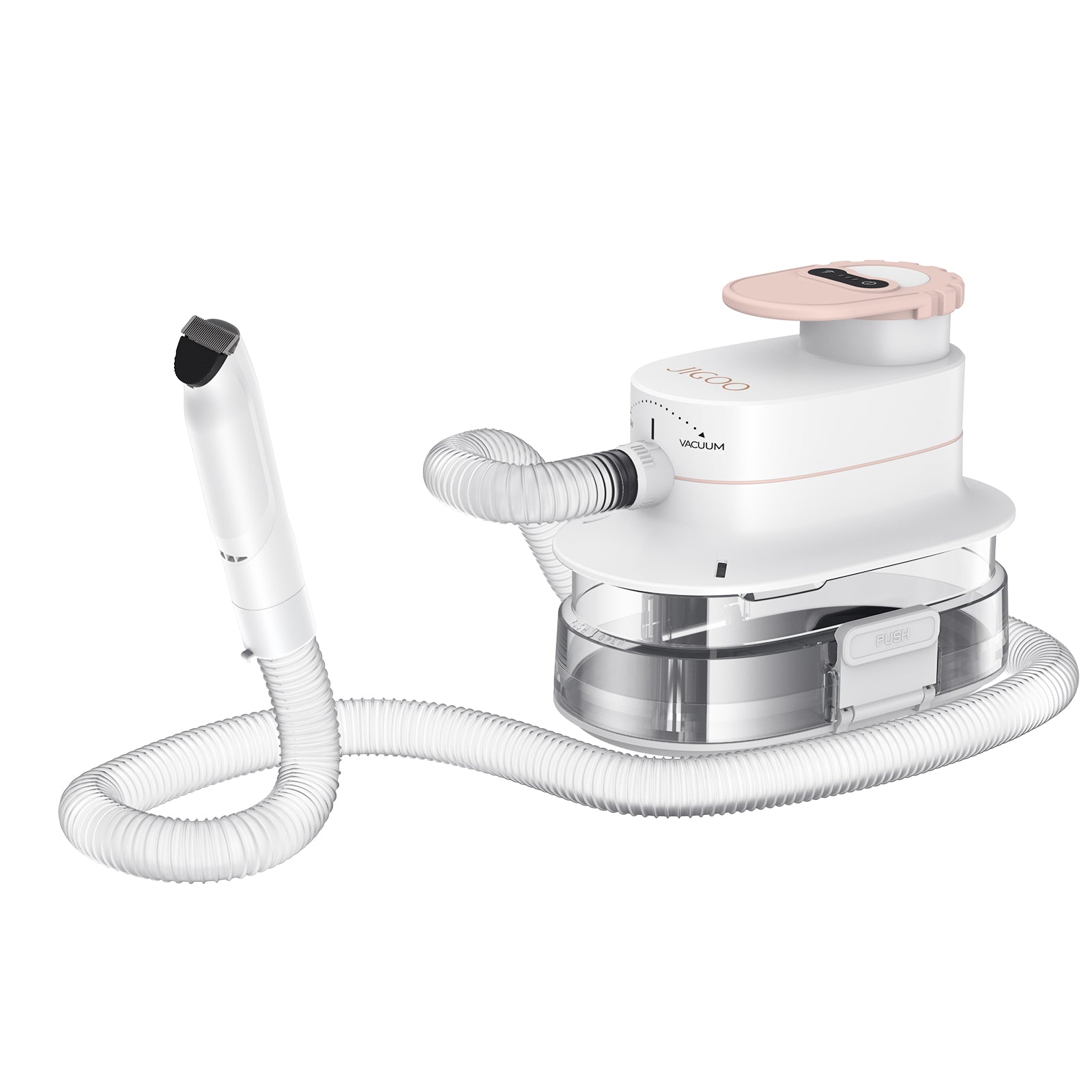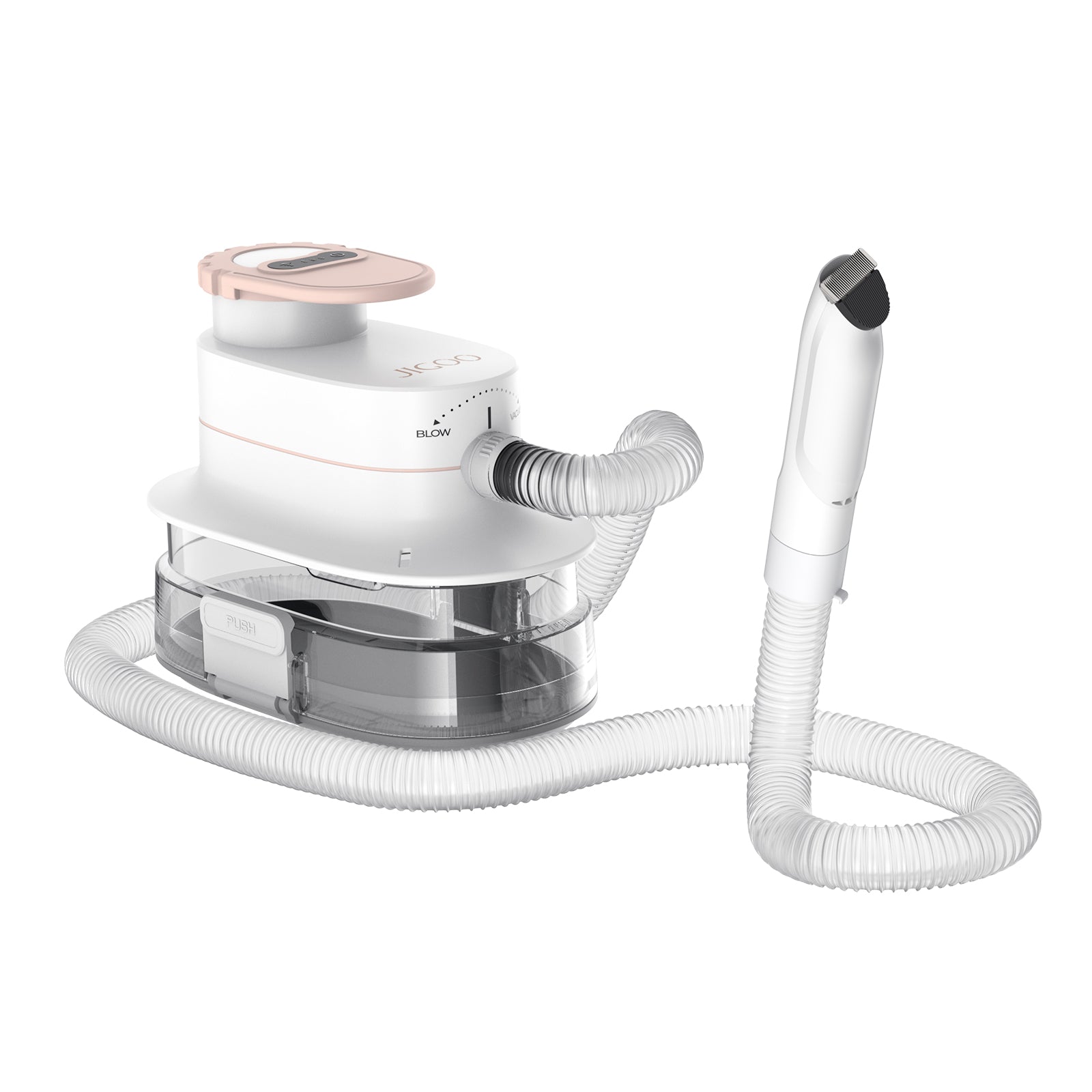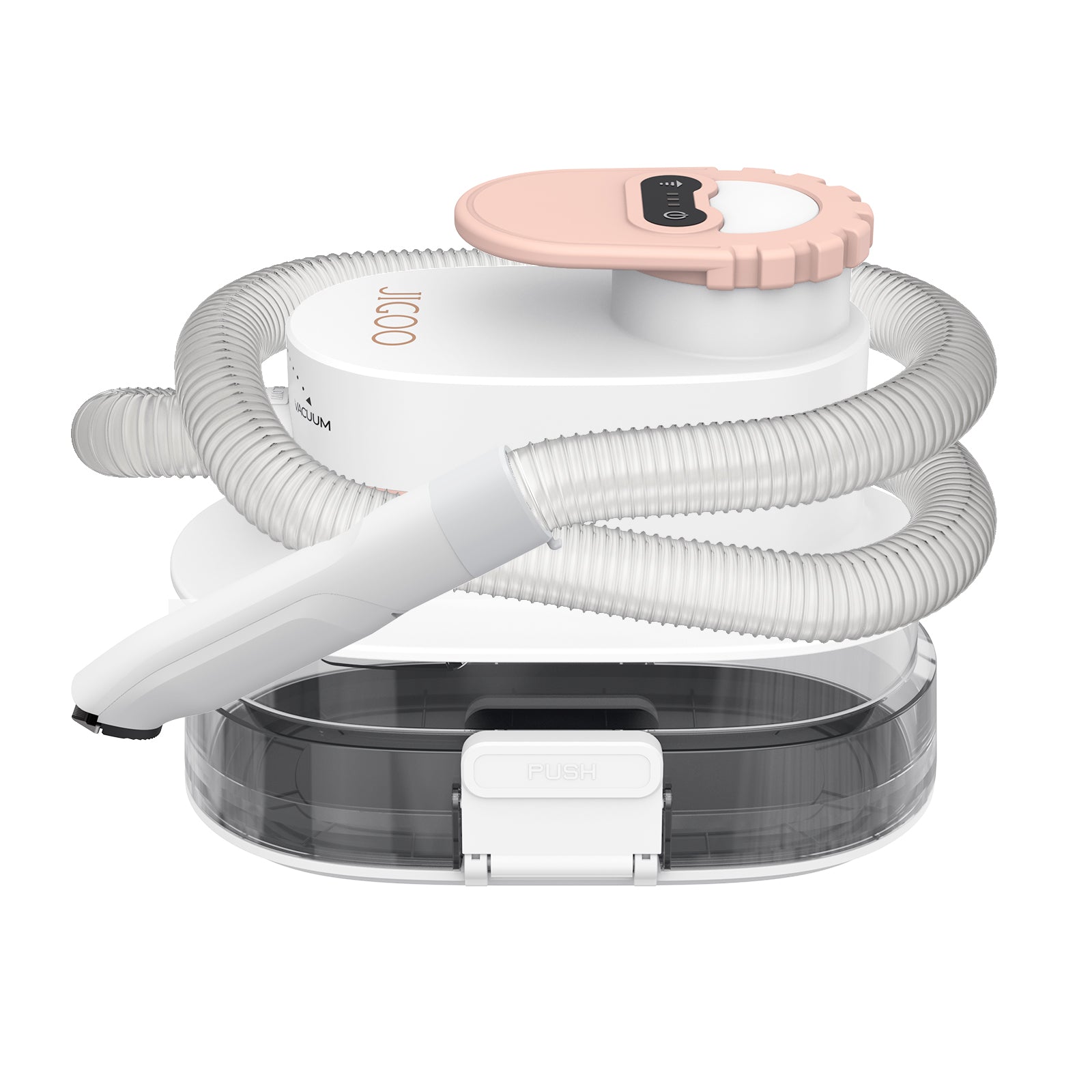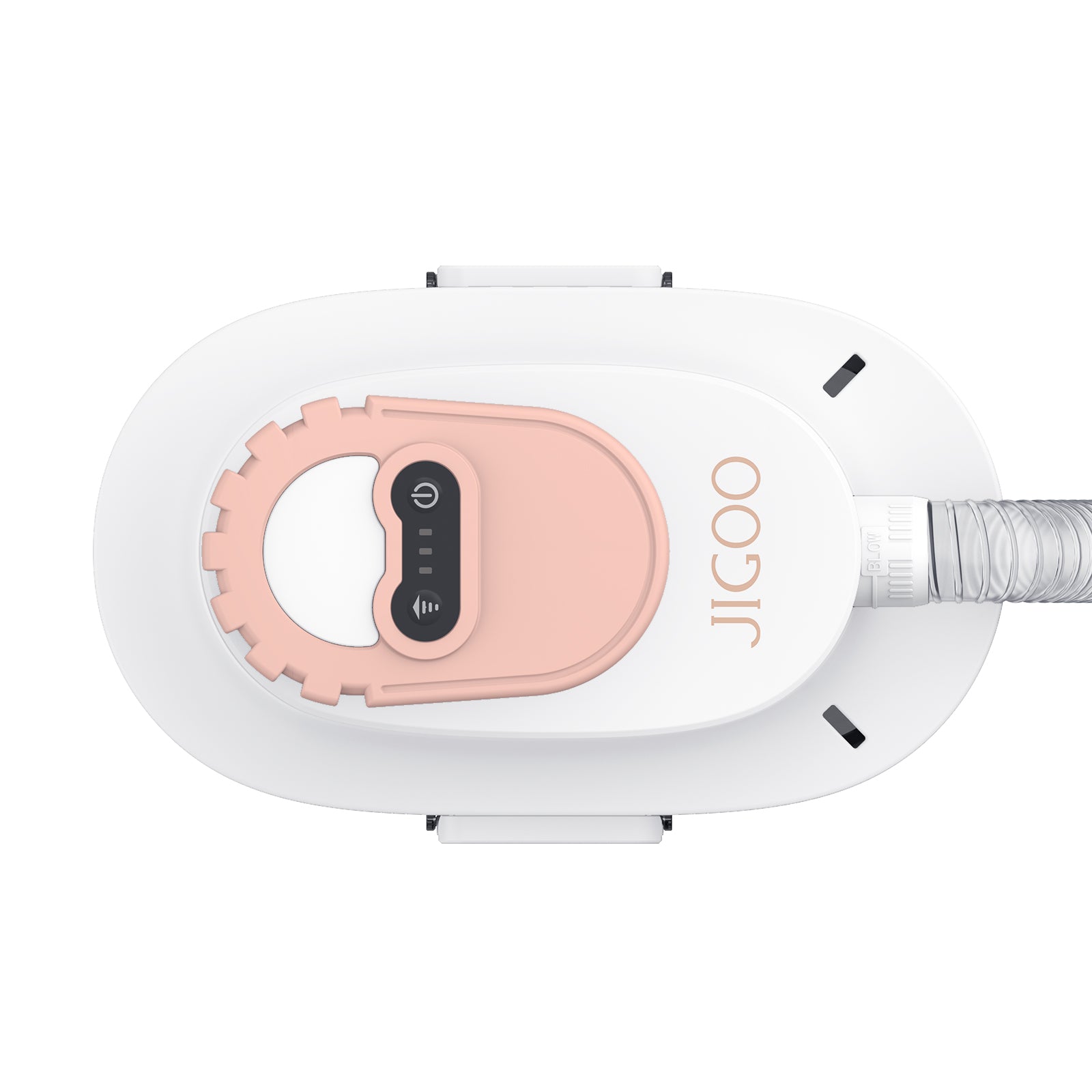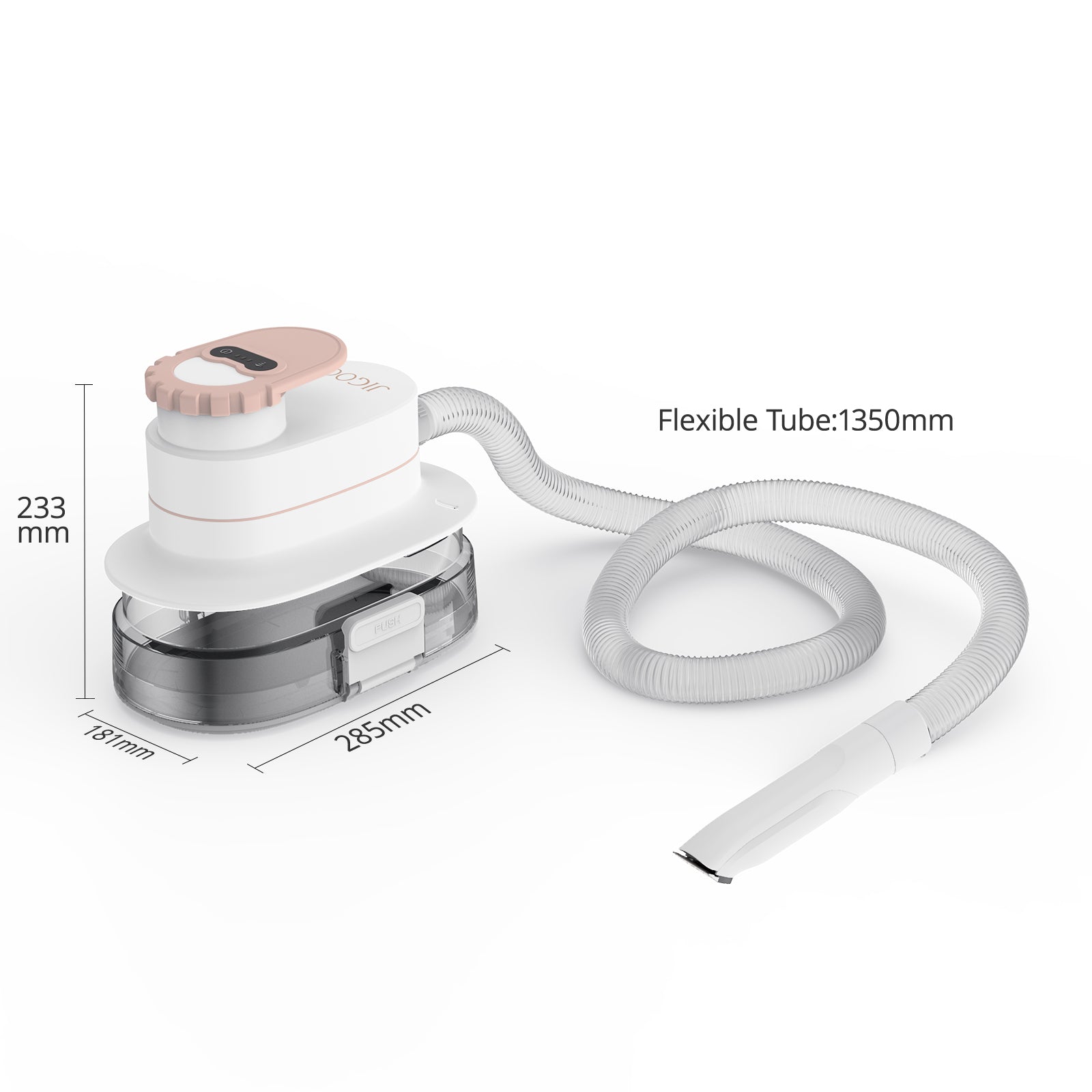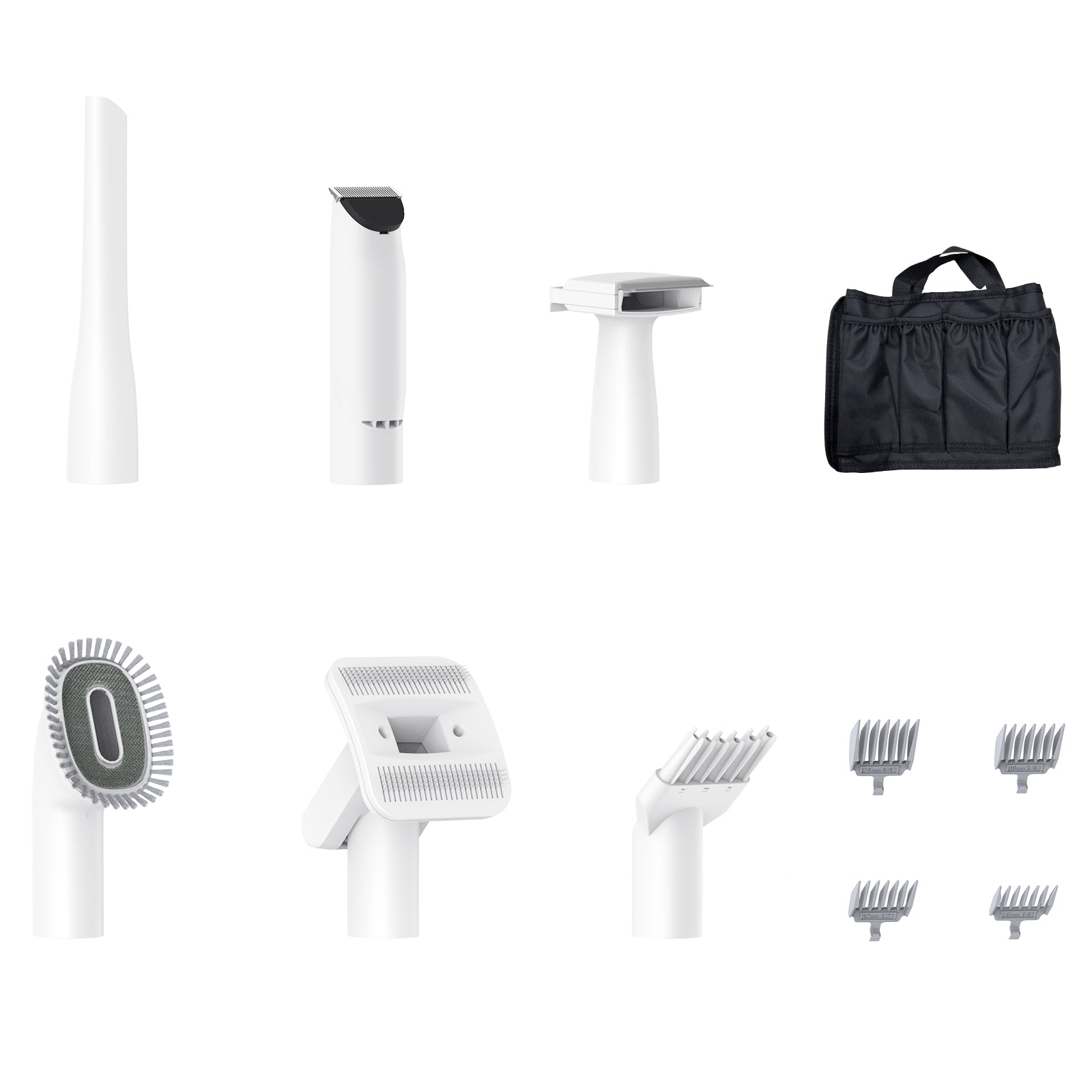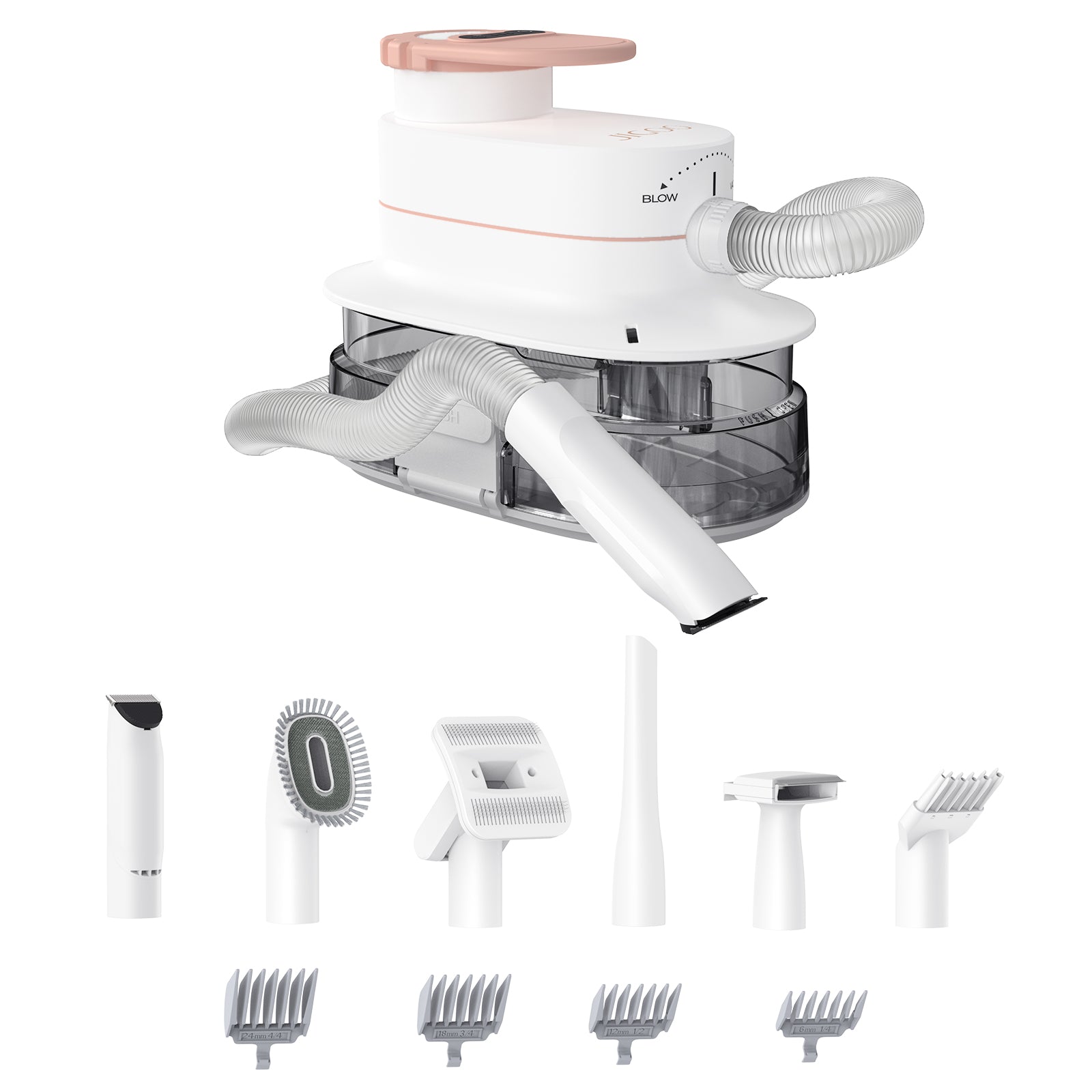 P300 Pet Grooming Vacuum
Eleven in One
This grooming vacuum includes a trimmer, a de-shedding tool, a grooming brush, a cleaning brush, a nozzle, a tickling nozzle, four guide combs, and a storage bag—all the attachments needed to groom, trim and vacuum your beloved pet's hair. The trimmer, together with 4 guide combs, enables you to trim hair into various lengths. The grooming brush effectively deals with loose hair while the de-shedding tool removes dense fur. Also comes with a cleaning brush, a tickling nozzle, and a nozzle for more uses.
Pet Hair Grooming and Vacuuming
The grooming and vacuuming functions leave you no mess for a home pet salon. It not only grooms and de-sheds your pet's fur but also simultaneously picks up almost all the shed hair into its 4L huge-capacity dust cup.
4L Huge Capacity
Featuring an easy-to-clean and spacious 4L dust cup, JIGOO Pet Grooming Vacuum allows you to collect hair and dust more efficiently, offering at least twice the capacity compared to its competitors. Simply remove all the collected dust and hair by pressing the release button, which is especially handy if you own pets with thick fur.
Exceptional Suction Power
JIGOO Pet Grooming Vacuum offers three speed modes for easier pet hair care. The low-speed mode provides gentle grooming that never scares your pet, and you can also shift to the medium and high-speed modes for more powerful and faster suction.
Four Length Hair Trimming
The trimmer, in collaboration with four guide combs of different sizes, including 6mm,12mm,18mm, and 24mm, allows for trimming of pet hair into various lengths, enabling you to create the desired hairstyles for your adorable kid.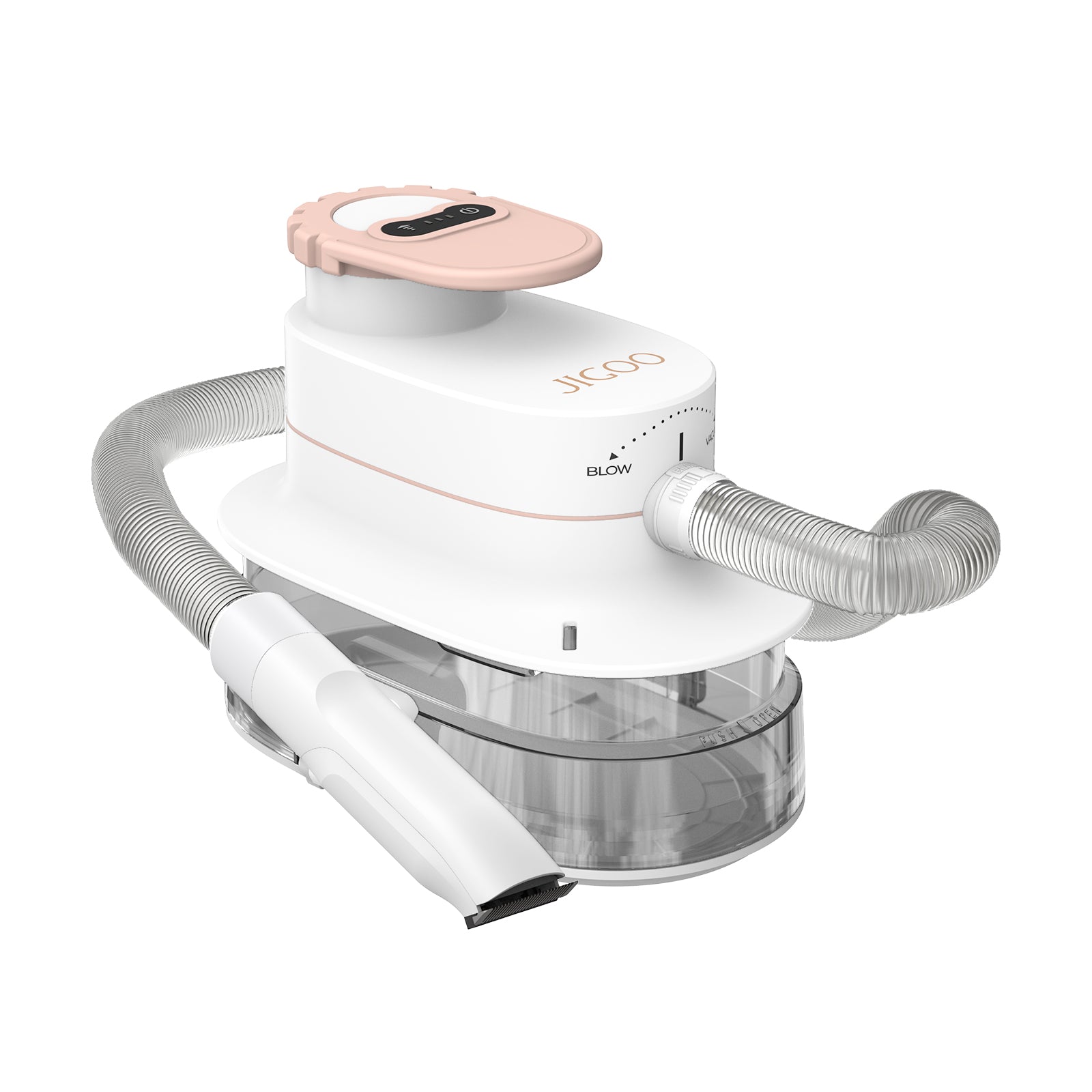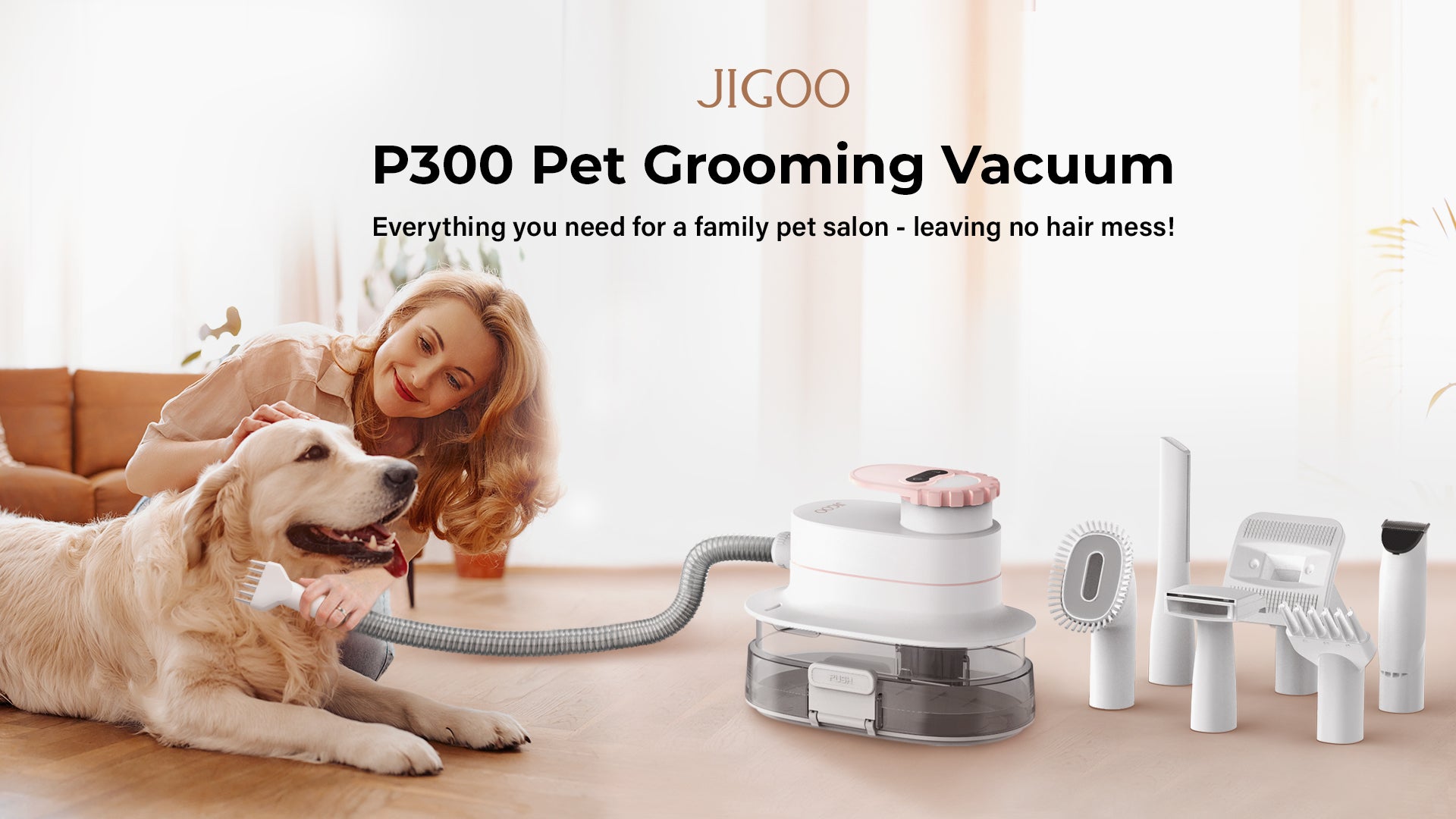 4L Hair Collection at Once

56dB Noise Won't Scare Pets

All Tools Included for Grooming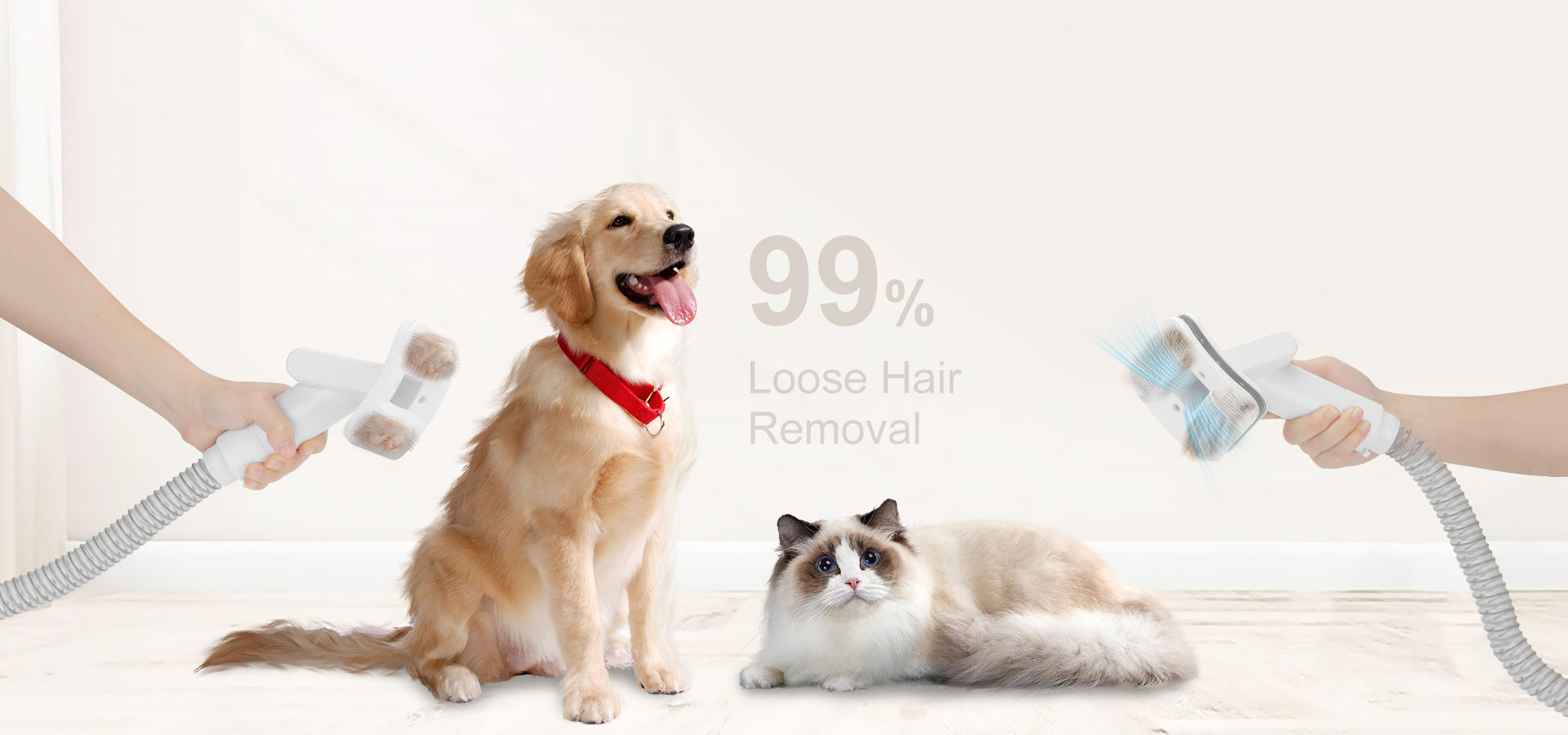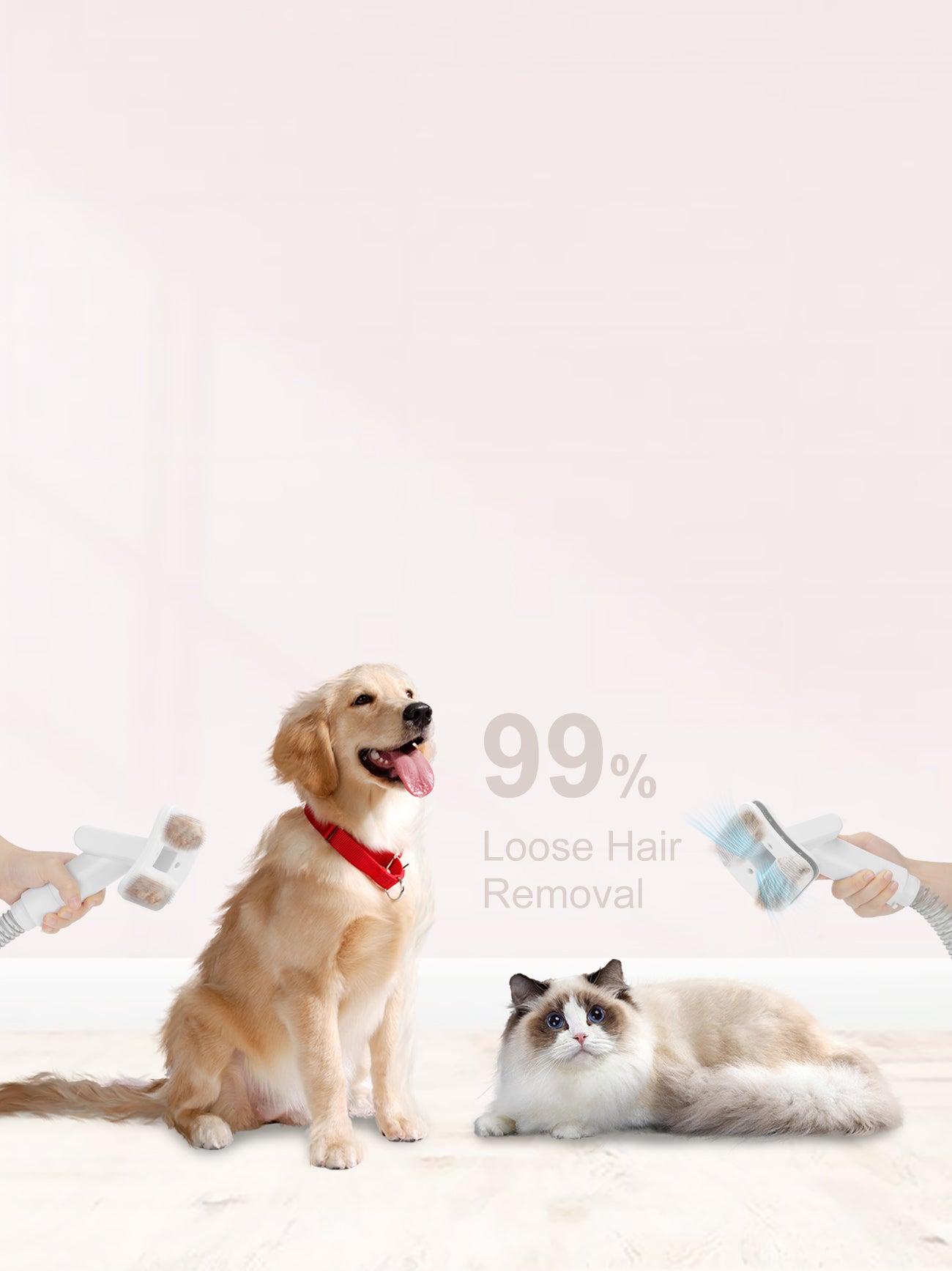 Grooming & Vacuuming in One
Groom your feline and canine companions without any hairy mess.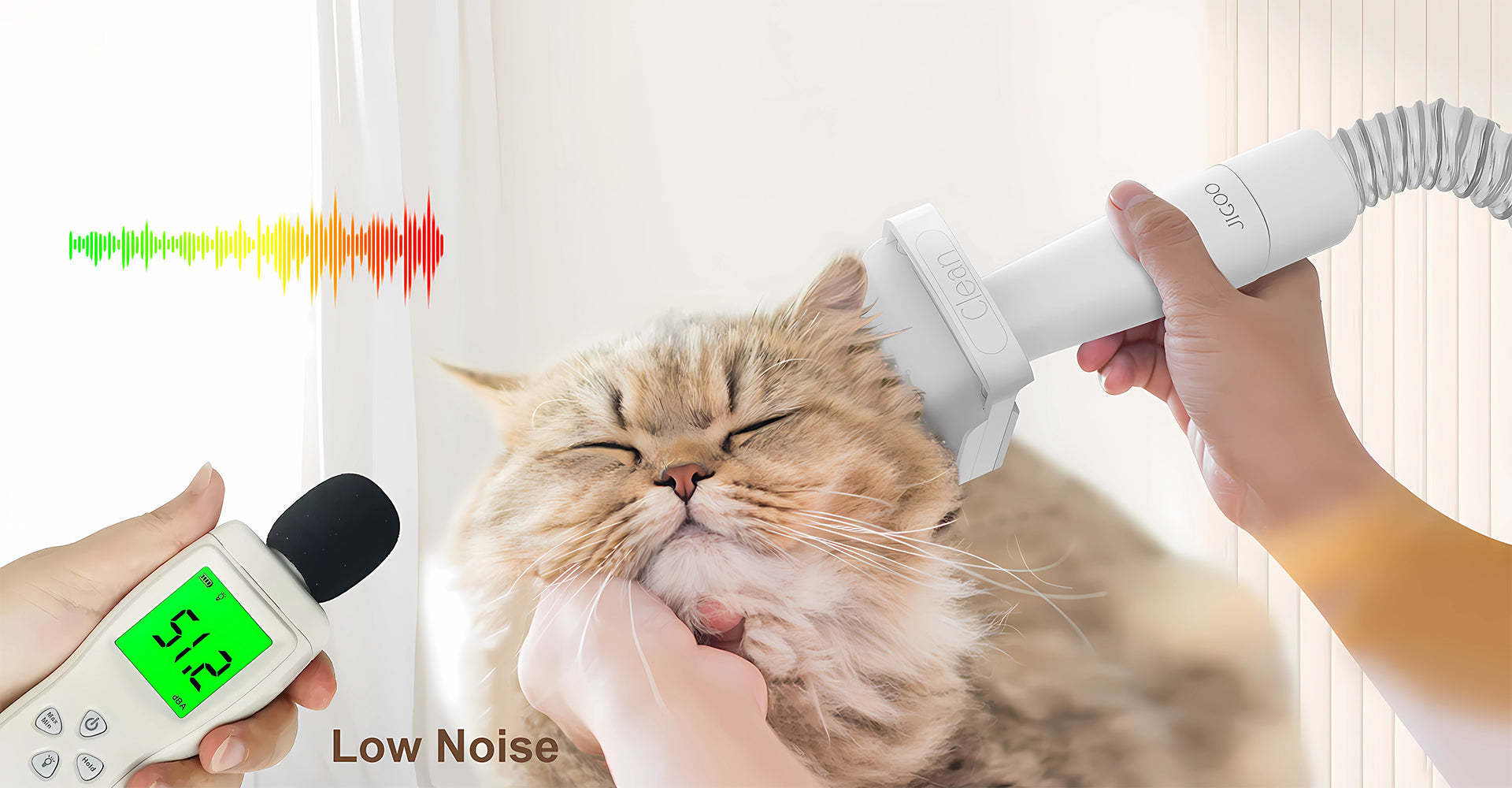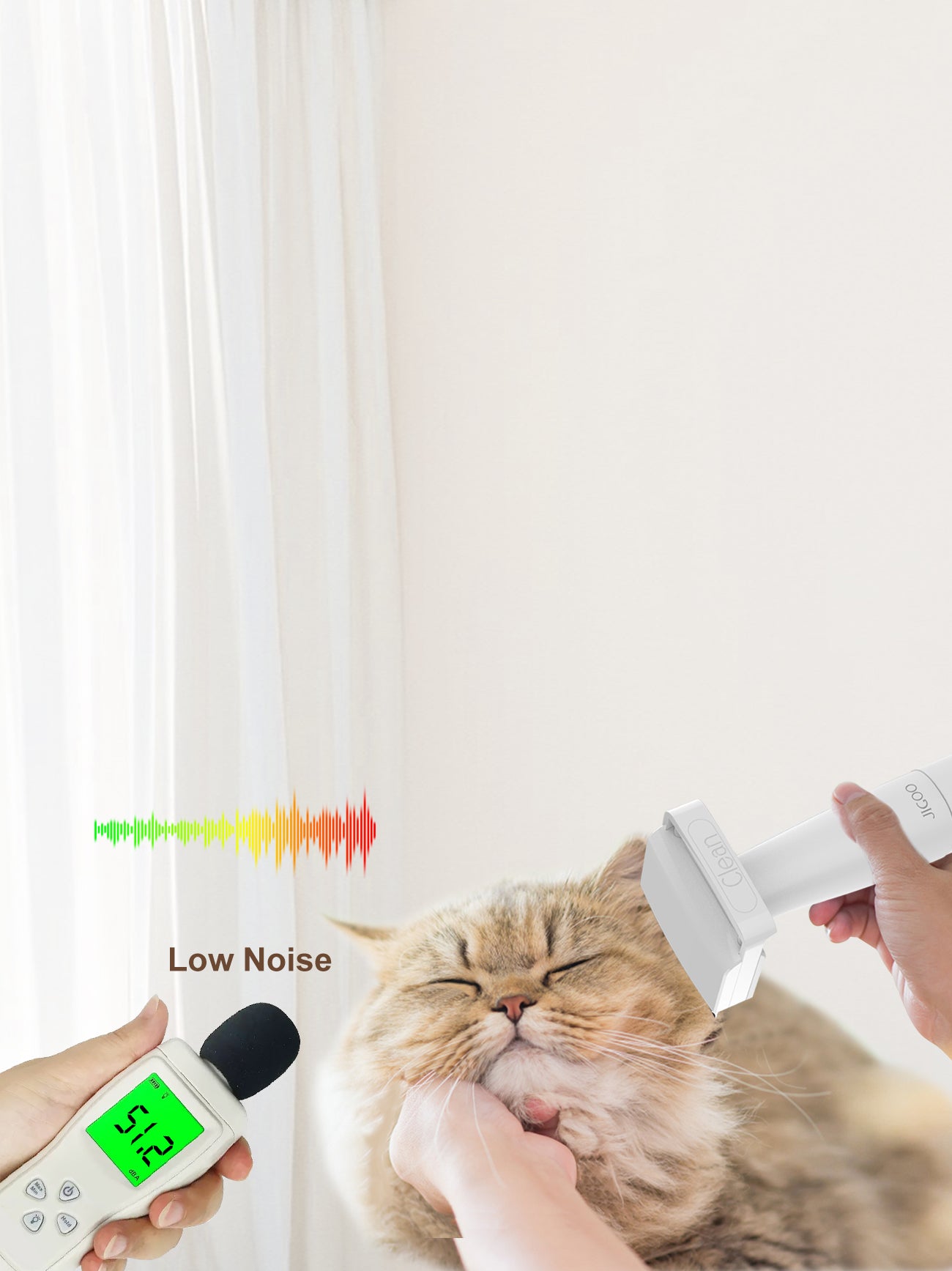 Friendly for Anxious Pets
Low noise allows for easier grooming and de-shedding.
Dry Hair, Too
Achieve rapid drying of your pet's hair by blowing and heating simultaneously.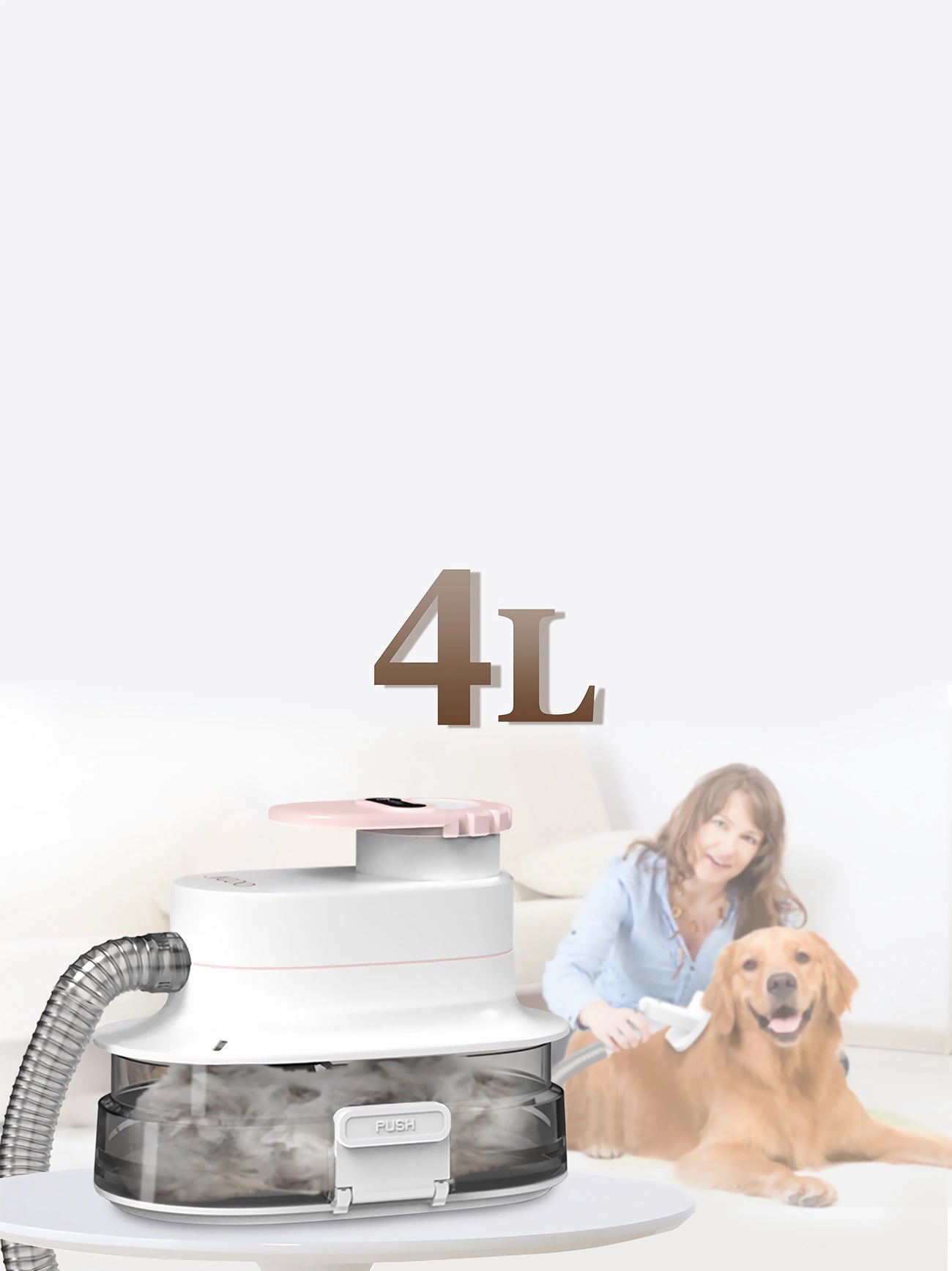 2x More Hair Collection
Gather twice the amount of fur to eliminate frequent disposal.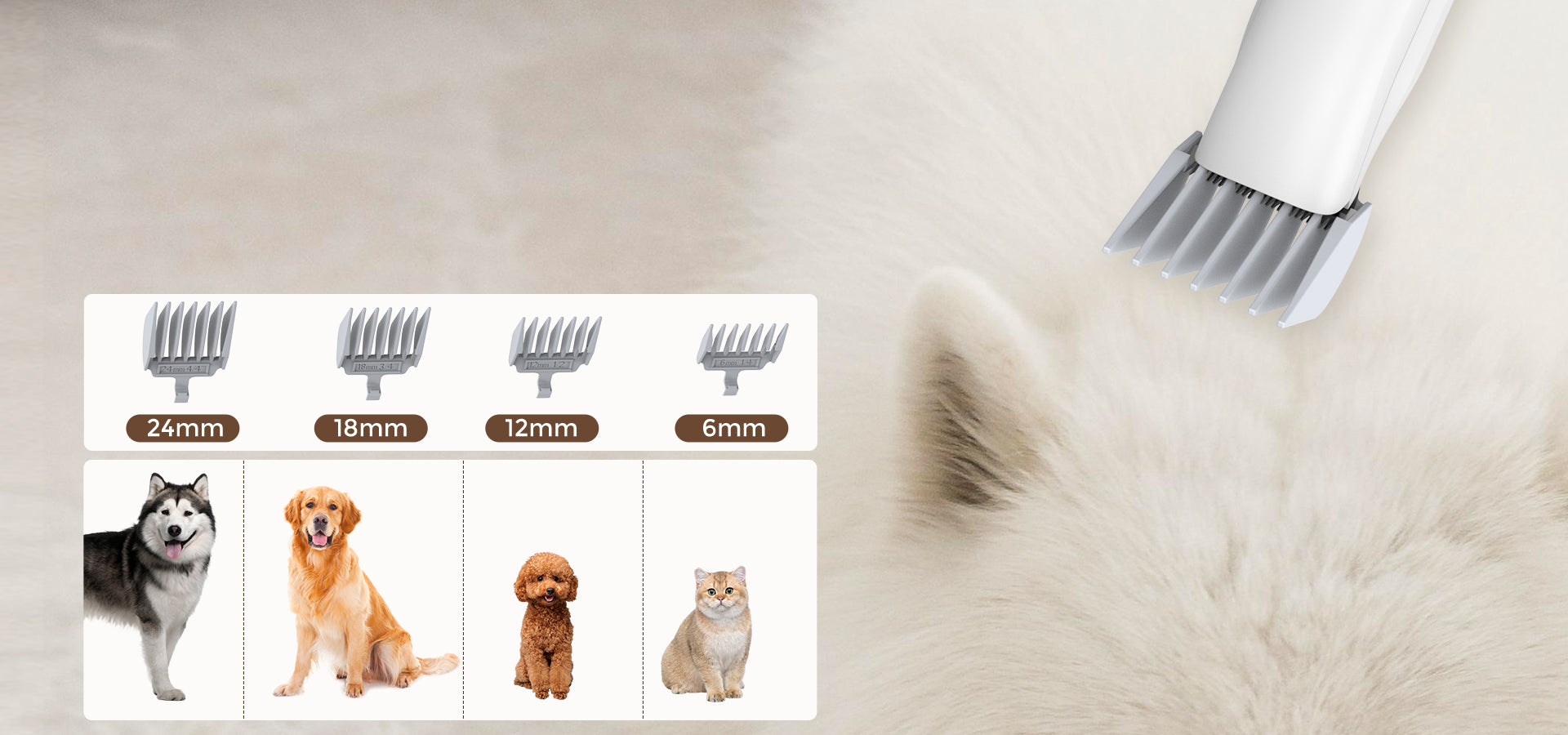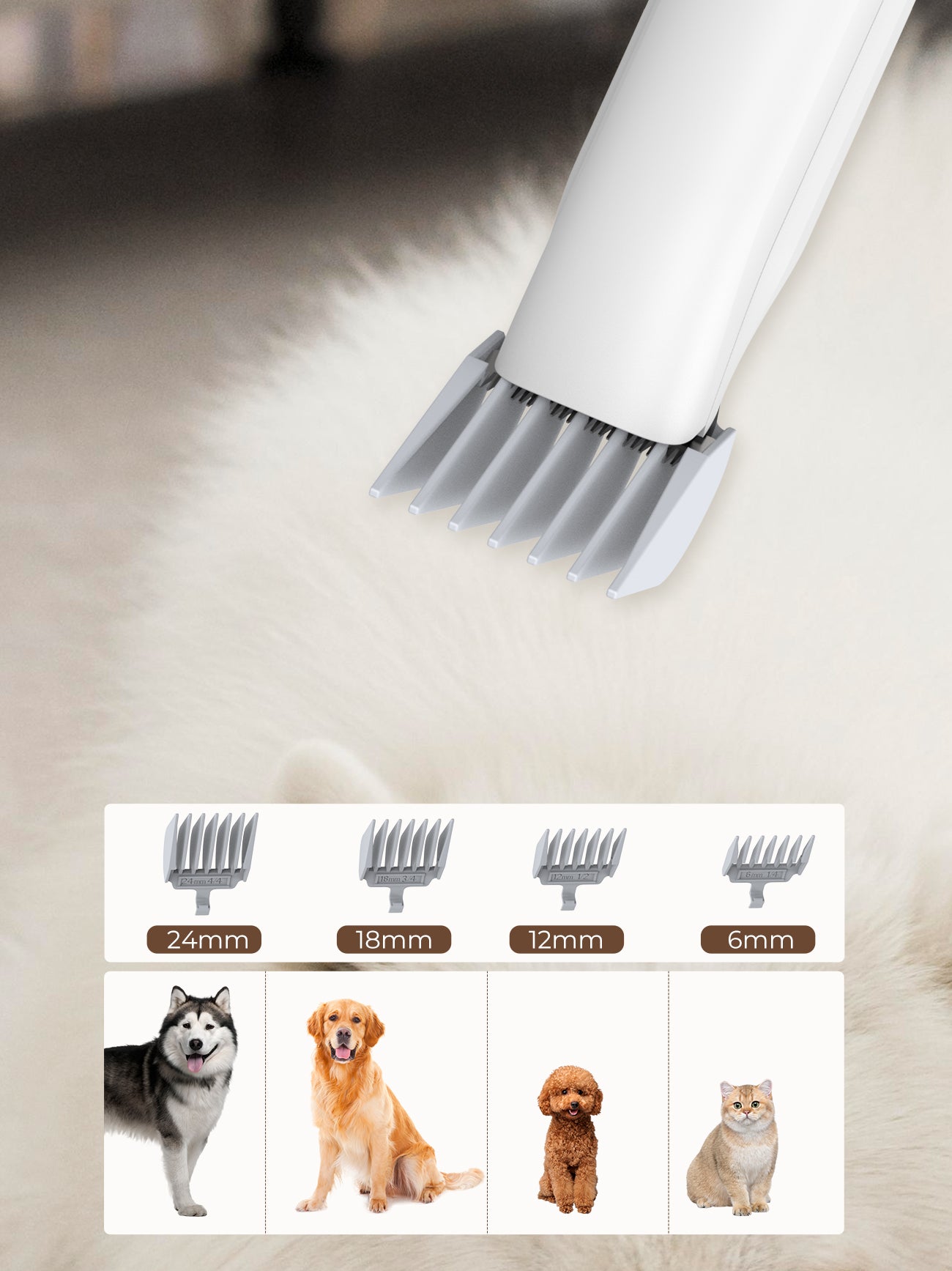 Designed for Hair of Various Lengths
Come with four guide combs for you to trim pet hair into different styles.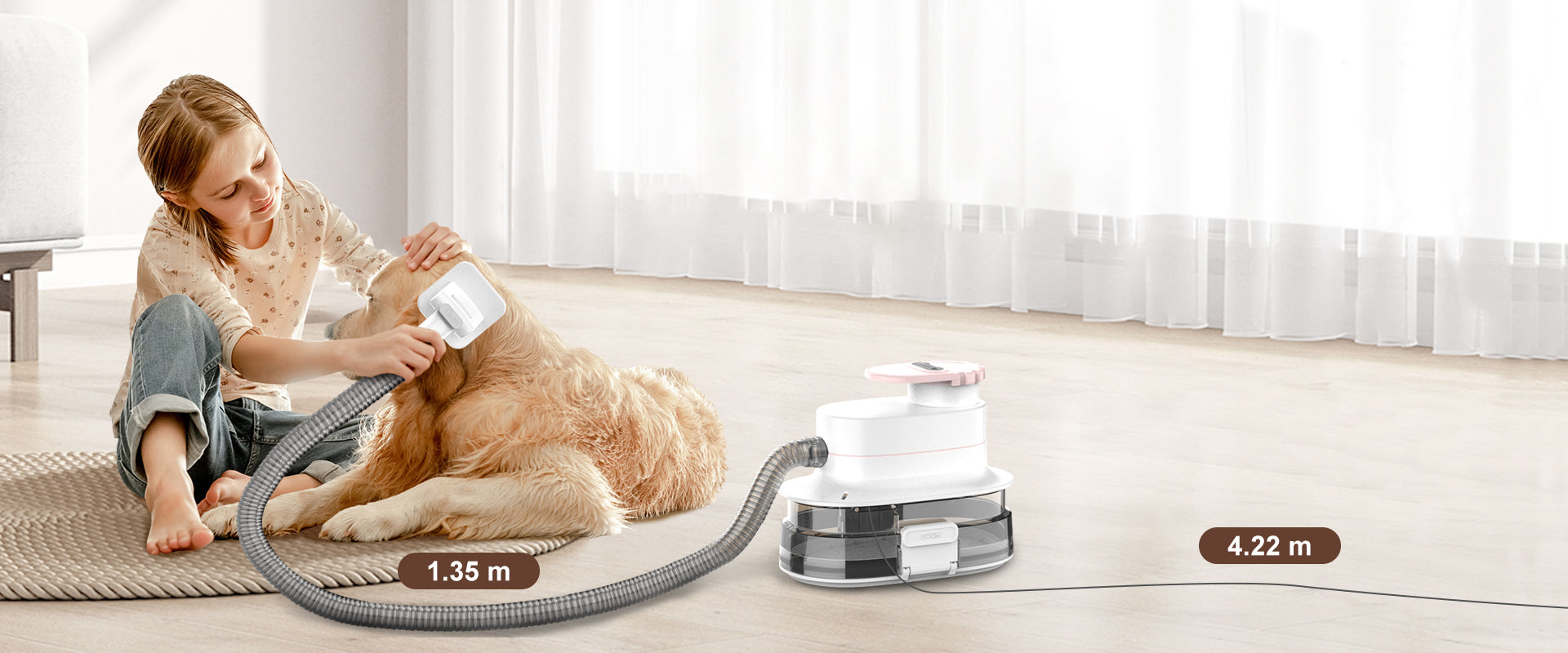 Flexible for the Giant
The hose and cable are long enough to allow flexible grooming
even for larger pets and curious ones.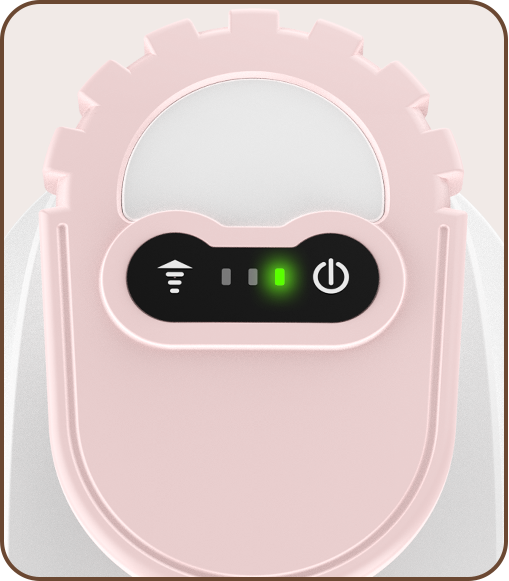 Twist
To shift between blowing
and vacuuming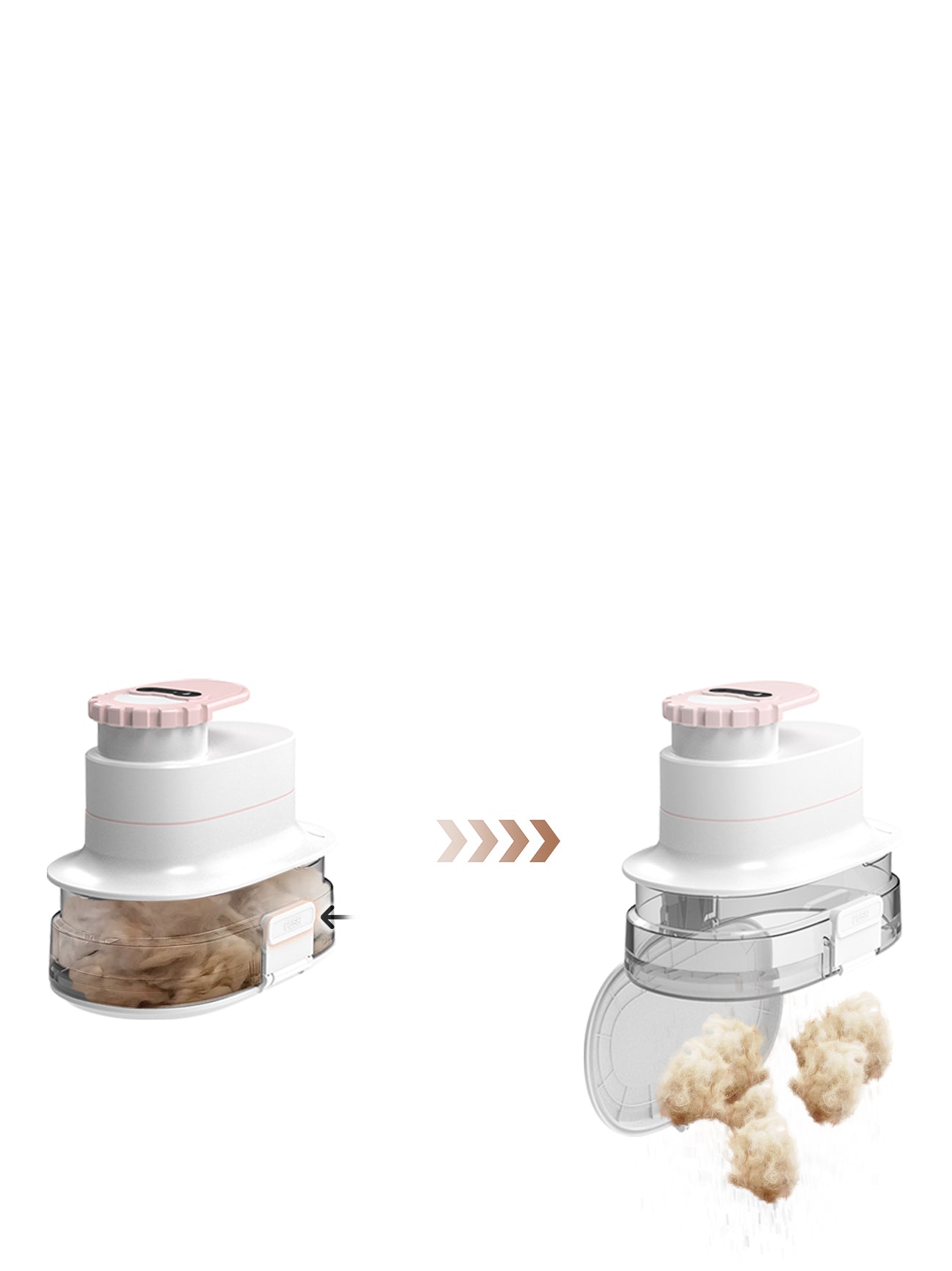 Quick Disposal
Hair and danders emptied in a flash by pressing the quick-release button.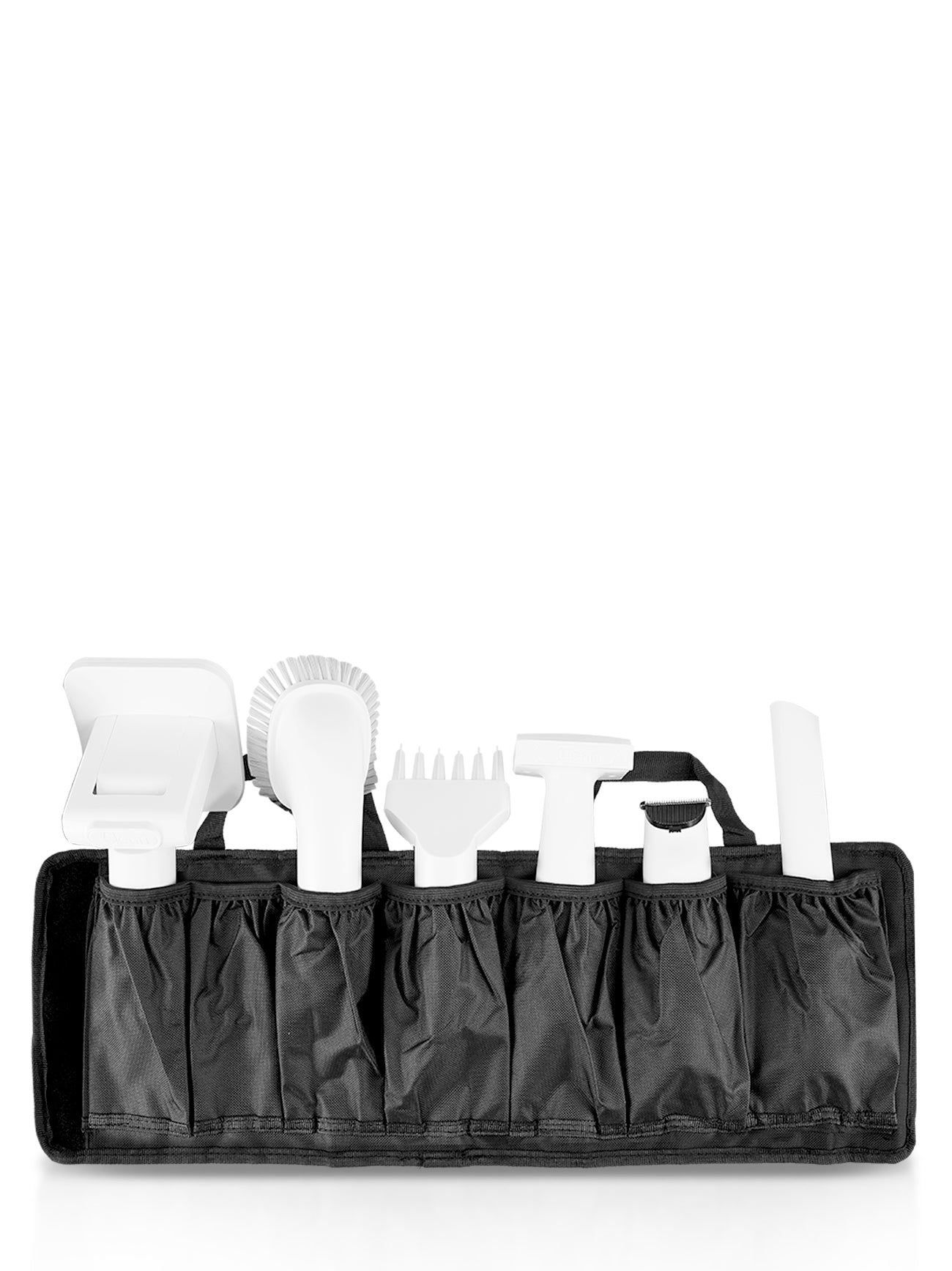 Handy Storage Bag
All tools get packed to keep your
home neat and tidy.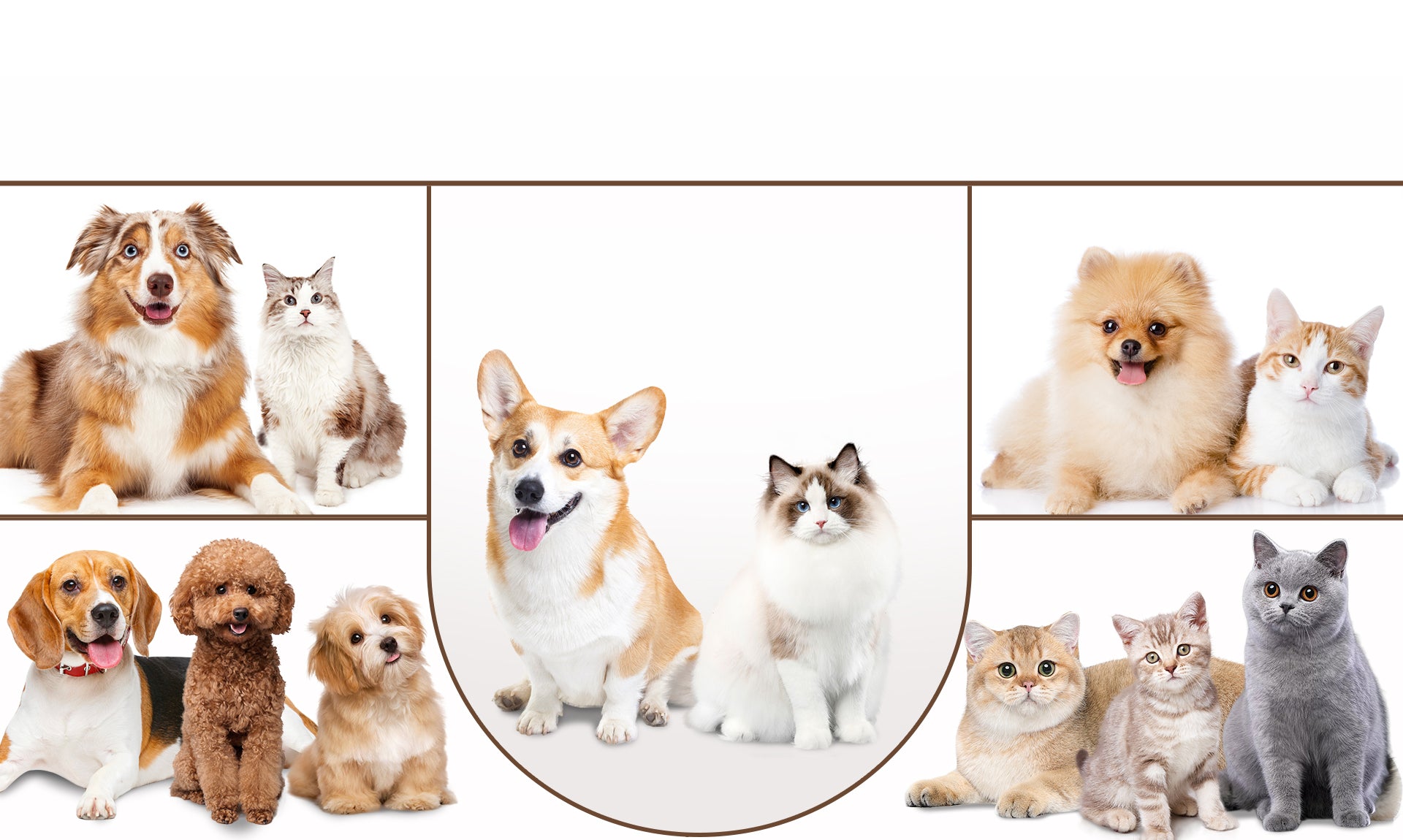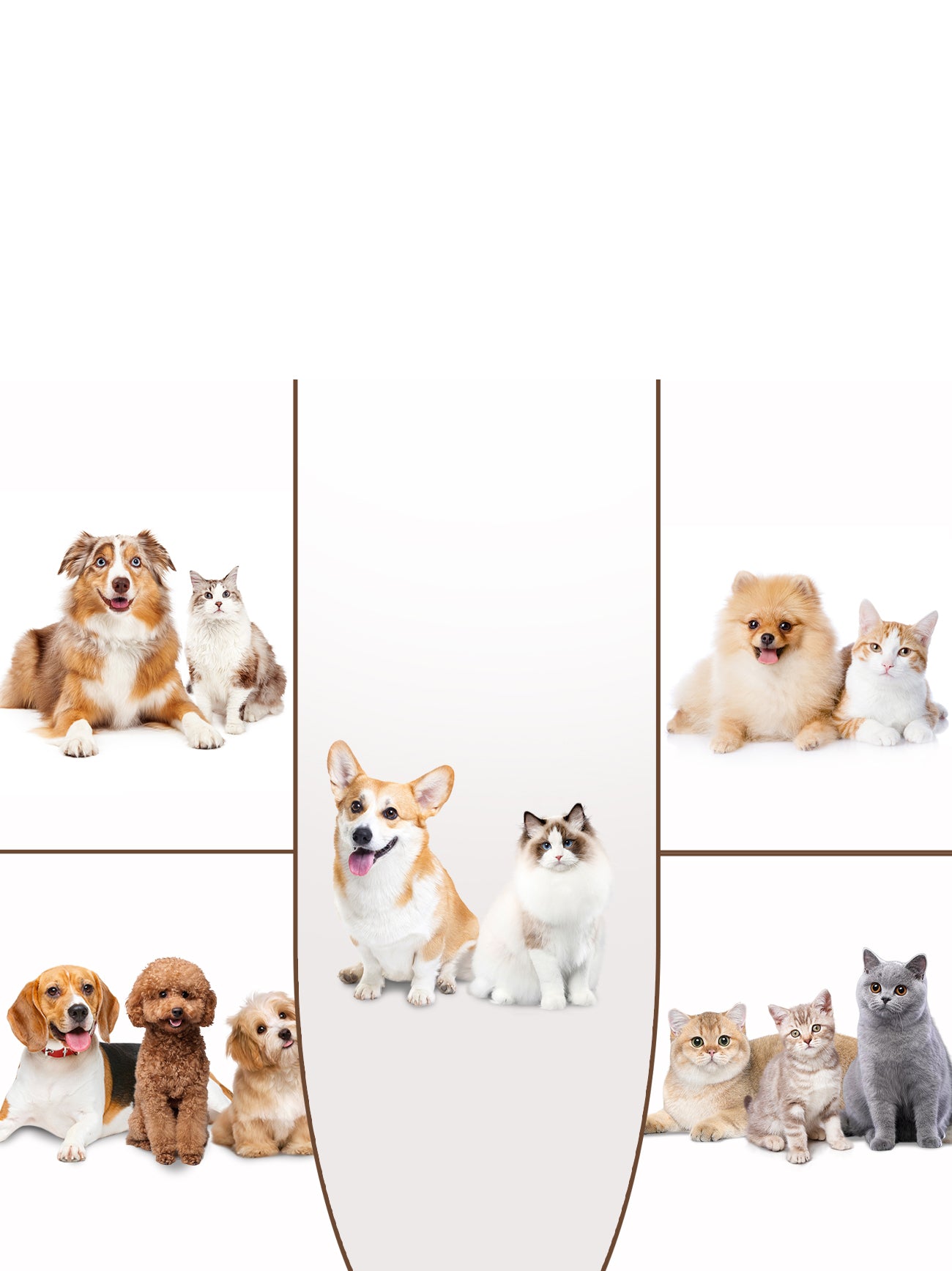 Loved by All Furry Friends
The safest and most comfy grooming experience for all beloved pets.
Package Contents
JIGOO Pet Grooming Vacuum x 1
Guide Comb x 4
Trimmer x 1
De-Shedding Tool x 1
Grooming Brush x 1
Cleaning Brush x 1
Tickling Nozzle x 1
Nozzle x 1
User Manual x1
This product has no reviews yet.